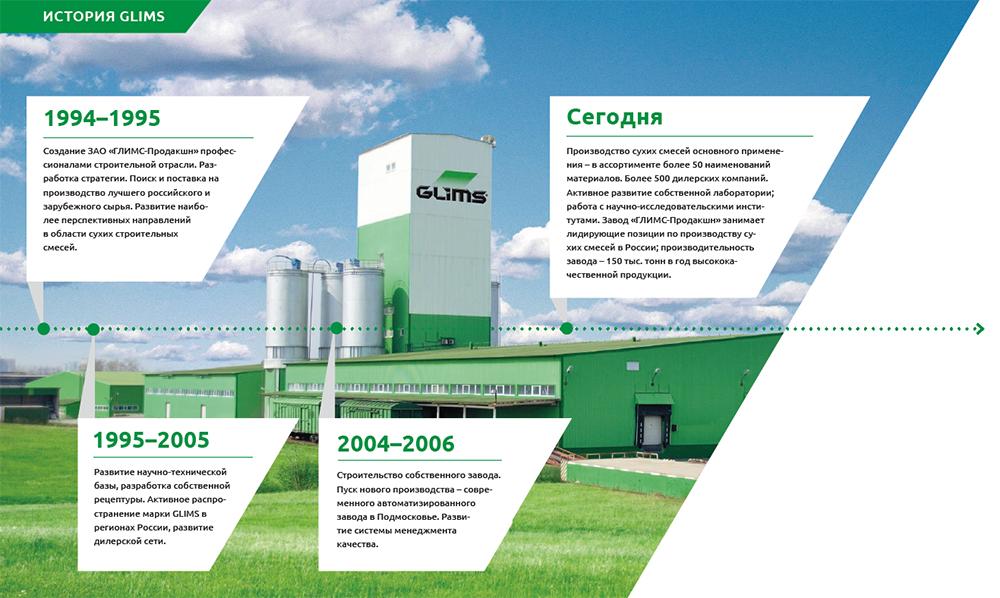 WE ARE 22 YEARS OLD
The company was established in 1995 by professional builders and specialists in the field of construction chemistry. The aim of the enterprise is to introduce into Russian construction a full range of advanced materials for the construction, repair and restoration of buildings and structures. GLIMS materials are dry mortar mixes modified with polymer admixtures; they are our own original solutions and are produced from the best domestic raw materials and foreign modifying agents from leading foreign manufacturers in Germany and Sweden.
The JSC «GLIMS-Production» carries out careful initial check of raw materials. A key factor in quality assurance is accurate adherence to formulations. The consumer has only to add water properly and mix the mortar. Developing formulations, the enterprise technologists are principally working towards the achievement of a high consumer grade of materials. This is achieved by a combination of knowledge in the field of the advanced technologies of the finishing materials production and rich practical experience in construction.
Today there are more than 50 types of materials in the assortment - stopping fillers, plasters, tile adhesives, float finish for tile-to-tile joints, poured floors, including industrial, waterproofing materials, primers, as well as tailored materials. An important difference between GLIMS brand products and foreign analogues consists in their maximum adaptability to operation in difficult Russian climatic and environmental conditions. With the materials of one GLIMS brand it is possible to perform repair from top to bottom, that is, to repair walls, ceilings, to align floors, to glue tiles, to make waterproofing and to repair the facade. The materials are easy to operate, cost-efficient in comparison with similar materials; they are absolutely environmentally friendly and longeval. In terms of a square meter of the finished surface the GLIMS materials are much more cost-efficient than "cheaper" analogues.
The production capacities of the JSC "GLIMS-Production" plant make it possible to perform any tasks set by the customer within the shortest possible time. And even if the builder would not find what is needed for his specific tasks among the GLIMS materials, the plant laboratory will develop a material that satisfies the technical and financial conditions of the most demanding customer. Examples of such cooperation were special company materials involved in the restoration of the Armoury Chamber, the Borodino panorama, the Elohov Cathedral, the "Ukraine" Hotel, in the construction of the third ring road, and in the reconstruction of the "Vorobyovy Gory" metro station.
Having been actively distributing materials for 20 years, the JSC "GLIMS-Production" is able to offer its current and future partners productive and long-term cooperation.
Driving directions «GLIMS-Production»